MCFT's Unmanned Aerial Vehicles Ground School Workshop Nov 21-23 in Fredericton
18 October 2017
277 views
No Comment
The Maritime College of Forest Technology's Department of Continuing Education, in partnership with Canadian Unmanned Incorporated, is pleased to offer Unmanned Aircraft Systems Training (UAS)Ground School with Sterling Cripps as your facilitator.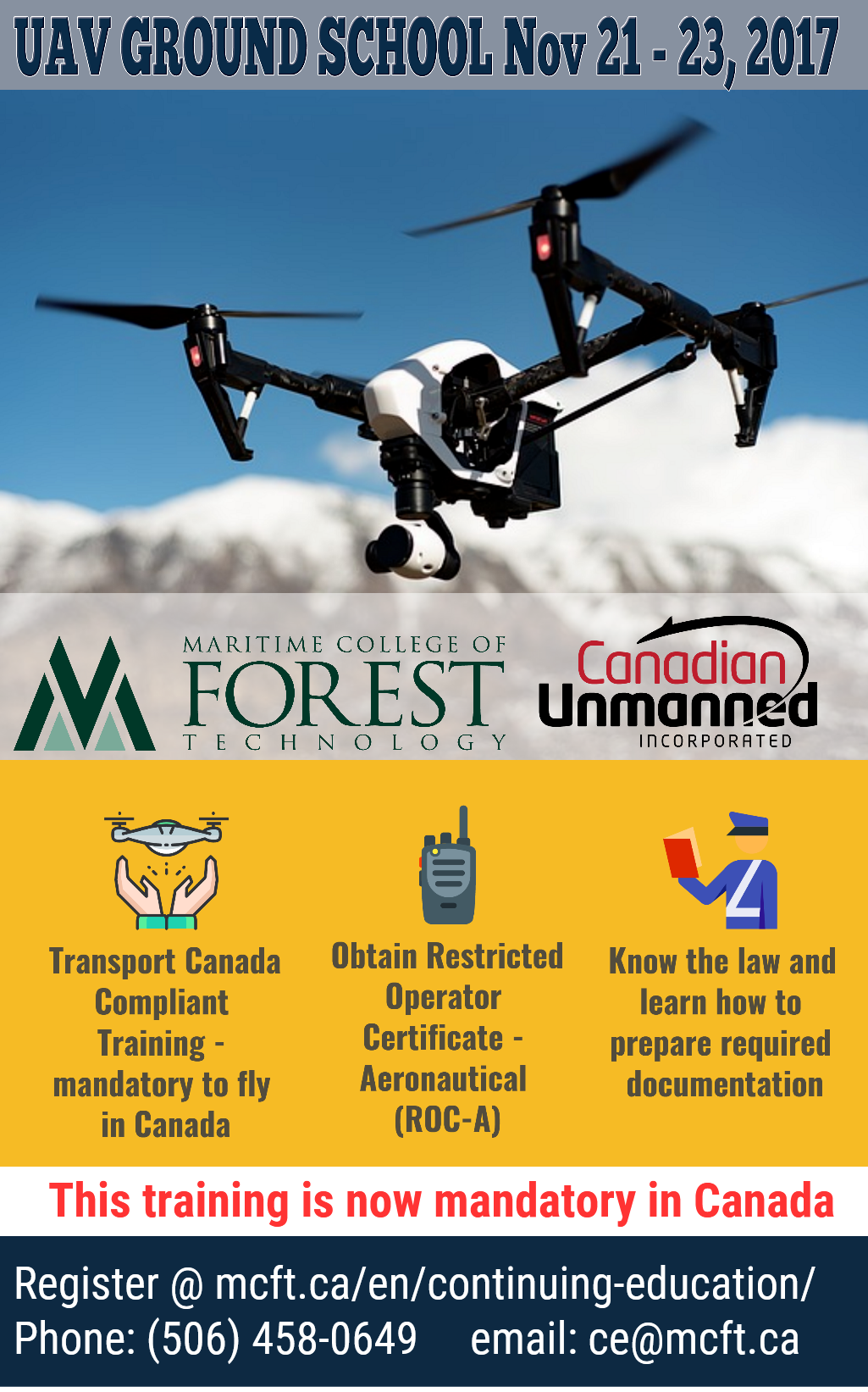 This is a two and a half-day course beginning at 8:30 AM on Tuesday, November 21st, 2017 in Room 230 of Blenis Hall.
With over 2000 students trained, this course is recognized as Canada's "First Choice" in small drone ground school training. It is Transport Canada compliant for civil and commercial UAV operators.
Why choose this workshop over others?
Recognized by Transport Canada
Affordable
Over 2000 people trained
Instructor is a commercial pilot and UAV operator. He is an Industry insider with intimate knowledge of UAV technology & legislation
MCFT provides excellent training facilities
All training materials provided including a detailed training manual.
Practical problem solving. You will leave this training with clear direction and a pathway to being compliant
Competency-based learning. You will receive certificates of completion where you've demonstrated that you understand the subject matter.
Snacks and lunch provided
About the Instructor: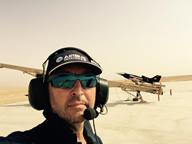 Sterling Cripps has been a commercial pilot for over 30 years and has been operating drones for the past 10 years. He has served on several Transport Canada committees and working groups since 2007, relating to drone legislation, and is one of Canada's leading experts in small drone regulatory issues and operations.
Sterling is an excellent adult educator with superb presentation skills. He conveys complicated subject matter into easy-to-understand modules. He recently penned an article titled "Flying a Drone Equals Responsibility" in our latest MCFT CE Newsletter. You can read it online by clicking here.
 Learning Objectives
Upon successful completion of this course, students will have a better understanding of UAV operation with respect to rules and regulations, as well as obtain an Industry Canada Restricted Operator Air Radio License (ROC-A).
Topics to be discussed:
Basic UAS "101"
Canadian Air Law and Regulations (CAR's)
Aerodynamics
Aviation charts and Canada flight supplement
Aviation weather
Meteorology
Air navigation
Human factors
Special Flight Operating Certificates (SFOC)
Current rules and regulations pertaining to drone flights in Canada
Communications
Knowledge and application process
Industry Canada Restricted Operator Air Radio License (ROC-A)
Register Now
At time of writing about 33% of the seats in this course have been sold. Please do not wait until the last moment to register. A seat is considered reserved/sold when we have a completed registration form in our possession.
A copy of the course announcement and registration form is attached to this email. Alternatively, you can download it from our website at http://mcft.ca/en/continuing-education/upcoming-courses. Please complete the registration and email or fax it to me to confirm your seat.
If you have any questions or wish to reserve a seat on this or any other course, please call (506) 458-0649 or email ce@mcft.ca.

Email This Post