ADVANCED FOREST VEGETATION MANAGEMENT WORKSHOP – FREDERICTON APRIL 26, 27, 28 2016
1 February 2016
690 views
No Comment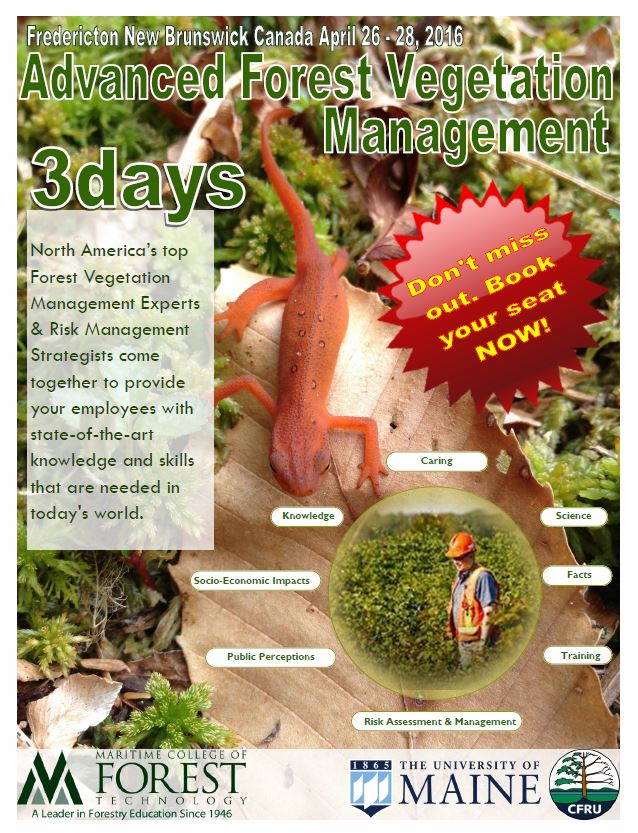 The Maritime College of Forest Technology (MCFT), in partnership with the University of Maine Center for Research on Sustainable Forests (CRSF) and Cooperative Forestry Research Unit (CFRU), are pleased to announce the following workshop:
Advanced Forest Vegetation Management
This workshop will be held at the Fredericton Campus of MCFT from April 26 – 28, 2016 beginning at 7:45 AM with a meet-and-greet; with class beginning at 8:30 AM.
The Organizing Committee has assembled some of North America's top Forest Vegetation Management Experts & Risk Management Strategists to provide your employees with state-of-the-art knowledge and skills.
This workshop will provide:
The principles of forest vegetation management
The role of herbicides in promoting successful forest regeneration
The effects of plant competition on the growth and development of forest stands
Types and formulations of herbicides available for forest vegetation management
How to select the most effective herbicide to meet a specific silvicultural objective
The latest research on environmental fate of herbicides in the forest environment
Principles of toxicology related to forest herbicides
The most recent understanding on the effects of herbicides on forest wildlife and wildlife habitat
State-of-the-art techniques on how to most effectively apply herbicides and protect the environment
Principles of risk perception and how to engage in successful risk communication with the public
Advanced integrated forest vegetation management and alternatives to herbicides
How to develop a successful forest vegetation management plan using herbicides and the alternatives
The course announcement, objectives, daily agenda, list of presenters,  registration form, and accommodation recommendations are available for download by clicking this link: Advanced Forest Vegetation Management
Please distribute this announcement to members of your organization in order to ensure success of this event.
Enrollment is limited, thus we will process registration forms on a first-come-first-serve basis. We must have a completed registration form in our possession in order to secure each seat.
If you have any questions please contact me using the information below.
Todd MacPherson
Supervisor of Continuing Education
Maritime College of Forest Technology
1350 Regent St
Fredericton, NB
E3C 2G6
506-458-0649
ce@mcft.ca

Email This Post