AGM 2015 – Environmental Concerns in Rights-of-Way Management
18 August 2015
664 views
No Comment
The Environmental Concerns in Rights-of-Way Management – Eleventh International Symposium will be held in Halifax, Nova Scotia from September 20-23, 2015. The event will be held at the Delta Halifax, 1990 Barrington Street, Halifax, Nova Scotia B3J 1P2 Canada with registration beginning at 4 PM on Saturday, September 19th, 2015 at 4 PM.
Please click this link for Hotel Information and booking of your hotel room for the conference.The organizers want you to use the conference hotel as it helps support the organization.
You can get your price and registration information for the conference by clicking here.
For a Exhibitor Information please click here.
For Sponsorship Opportunities please click here.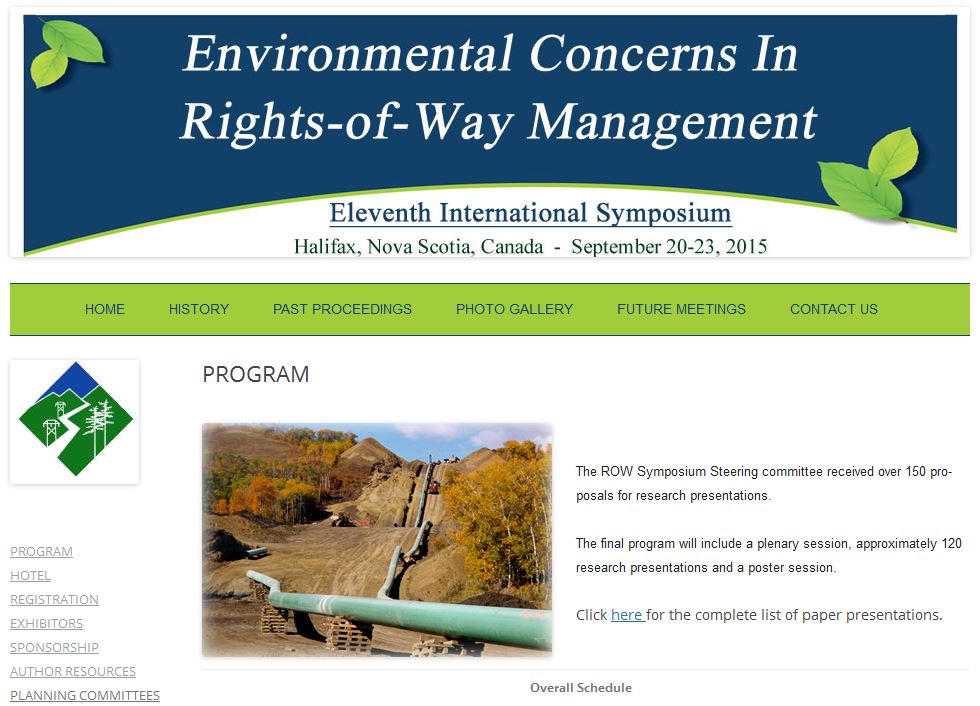 Here is the agenda:
Overall Schedule
Saturday, September 19, 2015
4 PM – 7 PM Registration
Sunday, September 20, 2015
7 AM – 8 AM Registration
8 AM – 5 PM Tour: Bay of Fundy (additional fee required)
8 AM – 5 PM Tour: South Shore and Peggy's Cove (additional fee required)
4 PM – 6:30 PM Registration
6:30 PM – 10 PM Welcome Reception at Maritime Museum of the Atlantic
Monday, September 21, 2015
7 AM – 8 AM Continental Breakfast
7 AM – 4 PM Registration
8 AM – 10:30 AM General Session: "The Enigma that is the Right-of-Way"
Keynote Speaker: Rob Bennett, COO, Eastern Canada, Emera, Inc.
Panelists: Mike Boyle, Consultant, Ecology and Environment
Rebekah Cluett-Chan, MCIP, LPP, Senior Environmental Advisor, Emera Newfoundland & Labrador
Sheila Leggett, President and Consultant, Tower Peak Consultants, Ltd.
Chris Nowak, Department of Forest and Natural Resources Management, State University of New York
10:30 AM – 11 AM Networking Break and Exhibits
11 AM – 12 Noon Breakout Session 1
12 Noon – 1 PM Lunch and Exhibits
1 PM – 3 PM Breakout Session 2
3 PM – 3:30 PM Networking Break and Exhibits
3:30 PM – 5:30 PM Breakout Session 3
6 PM – 7 PM Reception and Poster Session
Tuesday, September 22, 2015
7 AM – 8 AM Continental Breakfast
7 AM – 4 PM Registration
8 AM – 10 AM Breakout Session 4
10 AM – 10:30 AM Networking Break and Exhibits
10:30 AM – 12 Noon Breakout Session 5
12 Noon – 1 PM Lunch and Exhibits
1 PM – 3 PM Breakout Session 6
3 PM – 3:30 PM Networking Break and Exhibits
3:30 PM – 5:30 PM Breakout Session 7
Wednesday, September 23, 2015
7 AM – 8 AM Continental Breakfast
7 AM – 1 PM Registration
8 AM – 10 AM Breakout Session 5
10 AM – 10:30 AM Networking Break and Exhibits
10:30 AM – 12 Noon Breakout Session 6
12 Noon – 1 PM Closing Lunch and Exhibits

Email This Post